Yoga & Meditation Retreat 6 - 13 July In Italy
The Teachings of Yogi Ashokananda
Casananda, Ortelle Italy
6 - 13 July 2019
The teachings of Yogi Ashokananda will focus on practices, techniques and experiential learning to lead you towards greater self-awareness. You will expand your sense of who and what you are with the teachings of Yogi Ashokananda by applying the yoga & meditation disciplines he has developed.
Enjoy AM & PM daily sessions which will include Himalayan Hatha Yoga, Prana Kriya Yoga, Pranayama and Meditation.
Location - Casananda Ortelle, Puglia
CASANANDA is a courtyard villa and pool in the sleepy village of Ortelle. Puglia, known as the garden of Italy. It is a classic mix of Baroque and Medieval architecture, olive trees, dramatic coastline and clear waters. This is the Italy of the last century, with Moorish and Grecian influence, there is something for everyone. Come and experience the piazza come alive after five o'clock and shoot the breeze with the locals. We offer morning and evening practice with Yogi Ashokananda, your days are free to venture off to visit the local sites, swim in the prestine seas, enjoy a long leisurely lunch or simply relax by the pool. Breakfast & a light dinner are included in the retreat package lovingly prepared by retreat host, Karita Massara, who is passionate about utilising the organically grown local produce.
Morning Practice - Prana Kriya Yoga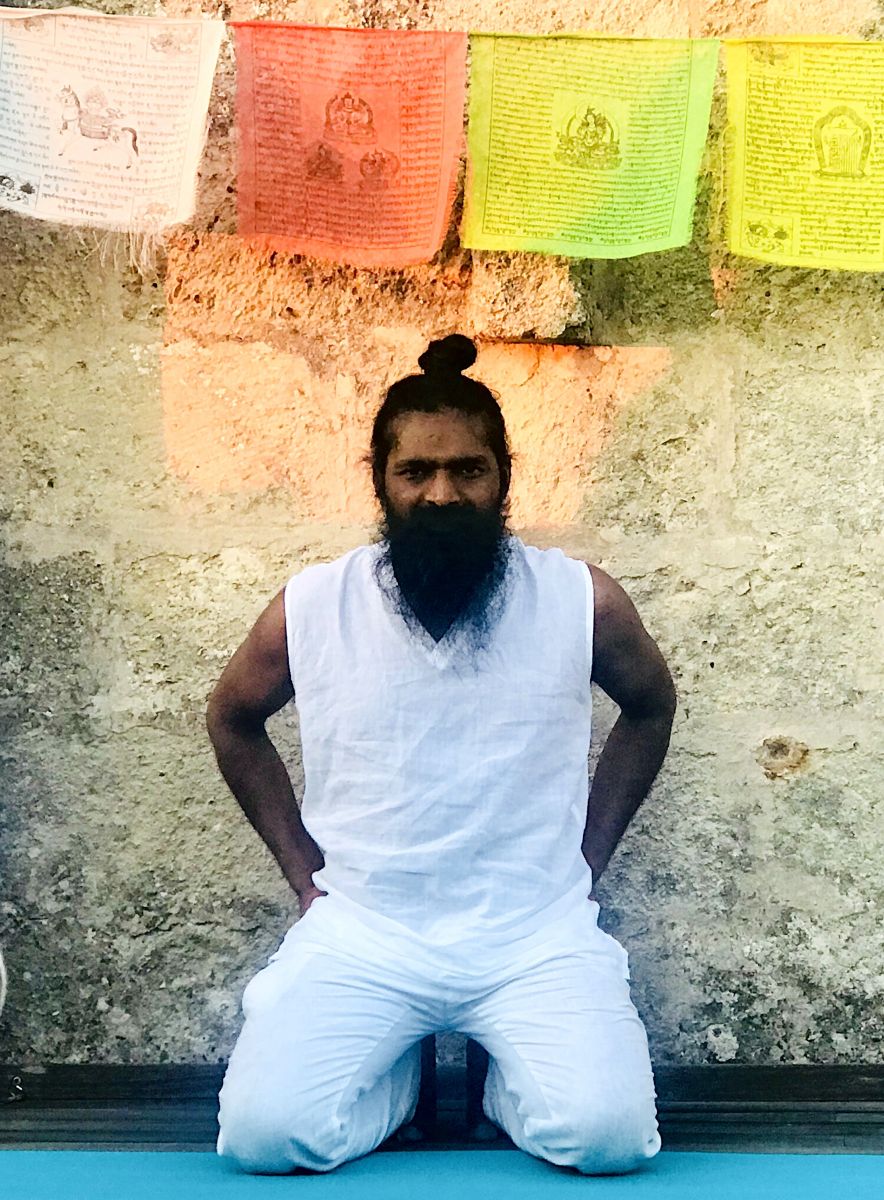 The Prana Kriya Yoga sessions will allow you to experience the essence and authenticity of true Kriya Yoga with Yogi Ashokananda's signature style of Prana Kriya Yoga.
Regardless of your physical strength and ability, Yogi will expertly guide you so that you can experience the layer of your highest consciousness by focusing on the fundamental principles of the practice. In these energetic and empowering sessions, we will go into fascinating detail and experience of Prana Kriya Yoga, covering kumbhakas (breath retention), mudras, kriyas and the five pranas.
Prana Kriya Yoga harmonises and unites the flow of the physical movement in our bodies (kriya) with its energetic power helping you become aware of your creative potential.
This form of yoga is one of the most effective means by which to achieve your goals and aspirations, material, emotional and spiritual, and bring your actions in line with your mental and emotional state. Prana Kriya Yoga has also long been highly regarded among many great masters and yogis to hold the key to slowing down the ageing process. It achieves this by recharging the blood with oxygen and decarbonising it, thus rejuvenating the brain and spinal centre and preventing the decay of tissues in the body. It awakens the hidden energy (kundalini) within you allowing you to transform and free yourself from limiting beliefs and old behavioural patterns that hold you back.
Evening Practice - Himalayan Hatha Yoga
These sessions will allow you to experience the essence and authenticity of true Hatha Yoga with Yogi Ashokananda's signature style of Himalayan Hatha Yoga
The various Himalayan Hatha Yoga practices will help you to energise, strengthen restore and connect, body, breath & mind. You will be guided through Himalayan Hatha Yoga morning practice series, solar / surya, to create lightness, freedom and space within your body. This is an energetic practice which will explore sun salutation series, balancing and seated postures as well as incorporating bandhas (locks), mudras and elements giving you psychological as well as physical strength.
Himalayan Hatha Yoga evening practice focuses on moon / Chandra to release stress focusing on unwinding and releasing toxins and undigested emotions from organs and the nervous system which are collected throughout the day. Greater focus on forward bend, twists and Savasana to help calm the central nervous system for a good night's sleep.
The Himalayan Hatha Yoga restorative practice is a much slower pace of practice while holding postures longer. The breath transitions to becoming very steady and deep. Seated postures, supported forward bends, supported hip openers, supported back bends & Yoga Nidra, Pranayama feature in this form of Himalayan Hatha Yoga practice allowing the focus to shift to letting go and acceptance on physical, mental & emotional levels, while rejuvenating & restoring the central nervous system and helping you to feel more grounded.
Himalayan Hatha Yoga is one of the forms of yoga founded and taught by Yogi Ashokananda. It is based on traditional principles of yoga. A strong, yet supportive form of yoga, working through the entire body, cleansing and revitalising through special sequencing with a combination of subtle body exercise. Yogi's teaching style manages to instil a sense of discipline in the mind and body without stress. His expertise and caring attitude towards his students provides a supportive environment where you can develop your practice at your own pace, in a way that is unique to you.
Satsang - Sunday Evening
Satsang in Sanskrit means sat ("being," "essence," or "reality") & sanga ("association")
Satsang is a gathering of people who have similar aspirations and who will meditate as a group. The group gathering strengthens the magnetism of everyone's association through discussion on a relevant topic. Yogi Ashokananda will lead the discussion and the guided meditation following the discussion. Participants are encouraged to share their meditation experience, providing an opportunity for further development of self-awareness, understanding and an opportunity for people new to meditation to develop an initial understanding of the sensations experienced through the meditation.
Meditation - Integrated into the morning & evening sessions
Yogi's ATMA meditation means meditation of Self or of your soul. It will bring the power of the universe into you aligning your individual self with that of the universe and make you realise the centre of your individual reality. By experiencing this space, you will create a multitude of benefits and positive developments in your life. Because you are aligning with universal energy and truth, your individual reality will alter as will your perception of your life, allowing real changes to take place.
Atma meditation will renew your energy, heighten intelligence by awakening and altering your perceptions, help you to have greater self-awareness, feel a connection to yourself, to others and to a source greater than you. Each one of us is entitled to feel greater inner peace, love, joy and fulfilment, happiness, freedom and success and this meditation will allow you to have access to the source within YOU from which these experiences can develop and make them a natural part of your life and who you are. It will help you to feel a connection to the energy of the universe.
You will leave feeling stronger, lighter, energised and rebooted.