Vipashyana Kriya Meditation August 1 - 10 in India
10 days in South India
with Yogi Ashokananda
The 10 day Vipashyana Kriya Meditation is practised in silence, providing a physical and mental detox to maximise your awareness of your mind to align your inner and outer self.
Absolutely out of this world experience, in total silence, Kriya Meditation to transform you into a state of calm and help you see yourself, your true self, creating an enhanced awareness of your whole wellbeing. Throughout this Course, you will be encouraged to follow the silent advice and refrain from using mobile phones, technology and yoga practice.

Daily Routine
Silent meditation practice throughout the day, self practice and guided by Yogi Ashokananda as a group. Meals are woven in between the various meditation practice sessions with a break after the main meal in the afternoon for self reflection. Teacher's discourse occurs each afternoon and is the time during the day when you can communicate with the teacher to discuss the experience and practice. Maintaining the silence extends to all forms of communications, no technology, no music, no reading, no writing and no speaking.
Vipashyana Kriya Meditation Leader - Yogi Ashokananda
Yogi Ashokananda will expertly and compassionately lead the Vipashyana Kriya Meditation Course Yogi is an expert and pioneer as a practising master of yoga , mindfulness and meditation and a speaker on humanity and spiritual philosophy. Raised in India, he has been practising yoga since early childhood when his Grandfather was his first teacher. Over many years Yogi Ashokananda has been fortunate to develop his teaching, experience and education of yoga under some of the great, remote, Indian masters and siddhas.
With a vast experience of meditation, Yogi has established some of the most simple and effective meditation techniques to accept, transform and embrace the material and spiritual aspects of ourselves. These include the Science of Relaxation active Meditation and Atma Kriya Meditation as well as having developed and taught his own practices of Kriya, Tantra and Kundalini Meditations.
Location Information - Yogiville India
Yogiville is a truly self-sustaining, beautiful and natural sanctuary where rejuvenation, exploration and relaxation can be enjoyed in a harmonious environment. It is a place and a concept, to help achieve balance and harmony between the mind, body, and spirit, both individually and in relationship with the world around us.
Applying yoga principles to daily life means adopting healthy practices and attitudes, ultimately leading to enlightenment or Samadhi. Each person's journey is constantly evolving, as their relationship with self and the world around them evolves. Yogiville enables a yoga lifestyle where you can commit to living life fully and to performing actions mindfully.
Yogiville is a comprehensive site for travellers, retreat guests, training groups and day visitors. Yogiville includes a variety of accommodations (Ashok Tree), kitchen, indoor, outdoor and open dining areas (Ananda Kitchen), purpose built yogashala in the round, Yajnashala for self practice or smaller group practice, Buddha Bowl - Meditation Dome, Temple area, swimming pool, Neuroprana Wellness Centre, farmland, orchards, cows and goshalas, roaming footpaths, hammock areas, a gift shop, charity projects including a Primary School, Sita Devi Charity School, on adjacent property.
The entire location has been developing since 2012 at the keen vision of Yogi Ashokananda. Designed for sadhana.
Yogiville India is situated at the base of the holy Mt Arunachala, "Fire Mountain of Wisdom", recognised by many as the spiritual heart of the world. We are blessed with constant views of Mt Arunachala and uninterrupted views of the stunning sunrises kissing the sky as we start each day.
At Yogiville, we are traditional with our approach, for example, the food prepared is grown onsite or locally, is organic and will follow sattvic principles, i.e. all vegetarian, no eggs, onion, garlic or mushrooms. 3 healthy meals a day are provided, with the most amazing fruit available throughout the day to snack on along w/ chai, herbal teas (some grown onsite) or water. We see yoga as a way of life, not just a physical practice and the approach we take to nutrition / food is just one example. Another example, is how critical yoga and meditation are to the onsite charity school we support. You will see for yourself, each school day starts with all students practising yoga and meditation. These classes are integral to their education, health, behaviour and focus. We really hope that the school can change the future for these children, as we get back to basics with yoga.
We have over 13 acres of land on the outside of the village, which is on the outskirts of the town of Tiruvannamalai. The land has been transformed over the past few years into a homeland with a variety of trees in the orchard and across the property, flowers, plants, vegetation and wildlife. You will experience breath-taking views of sunrises over the holy mountain of Arunachala and sunsets over the hills. Yogiville India grows its own vegetables or they are collected from local farms to utilise seasonal produce, promote natural living and enjoy healthy food.
There are many places to walk, meditate, chill out and reconnect with your inner child. We believe that reconnecting with nature is part of the Yogiville experience.
Ashok Tree Accommodations
We have 4 guest houses all providing something different and are priced accordingly to meet any budget requirements.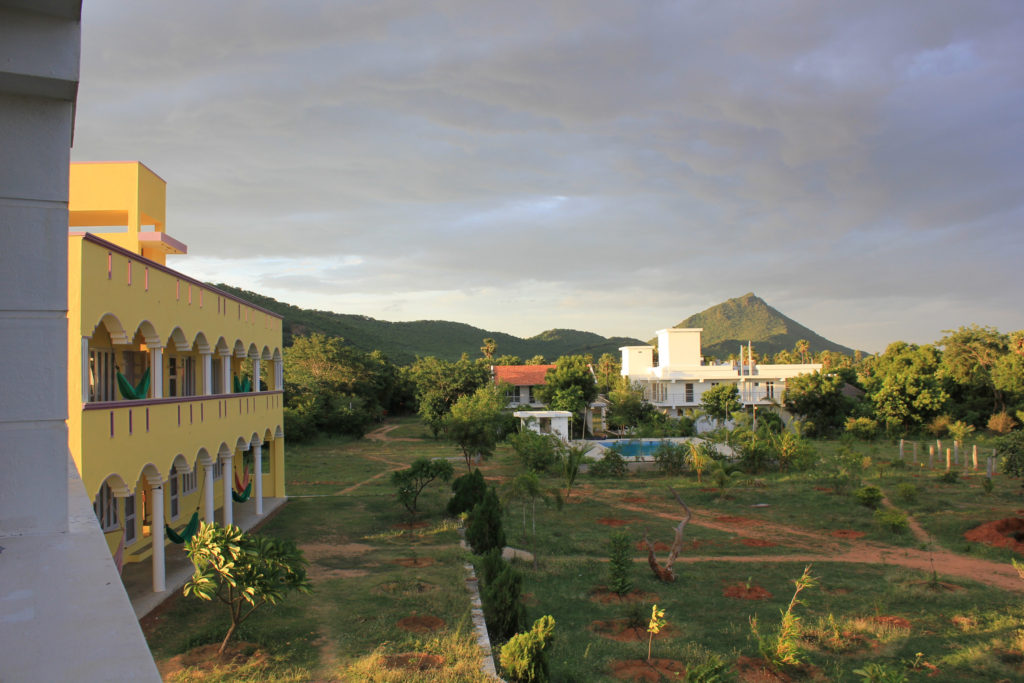 Guest House One
Our first guest house includes 8 ground floor and 1st floor rooms, approximately 176 Sq Ft in size, all with en-suite bathrooms, hot water. 1st floor rooms with balconies and ground floor rooms with verandas & hammocks. All rooms have screens, ceiling fans and some rooms have air conditioning. The rooftop if accessible to enjoy the views throughout the day with special views at sunrise and sunset. These rooms are ideal for single guests on a private basis, as rooms are fitted with a single bed.
Guest House Two
The second guest house is similar to the first guest house, although these 8 rooms are larger than guest house 1. These rooms are 256 SQ FT in size, all with en-suite bathrooms with hot water. Screens, ceiling and air conditioning fitted in each room for your comfort. All rooms during Vipassana Meditation are allocated on a private only basis. Rooms have double beds or 2 single beds. These two guest houses face east towards Mt Arunachala and the back views are to the west over the hills.
Guest House Three
Guest house 3 opened in 2019, our newest rooms and our largest rooms at 350 SQ FT. The 6 rooms are on the 1stfloor above the Neuroprana Wellness Centre. They have been fitted with stone floors throughout, double glazed floor to ceiling windows, screens, ceiling fans and air conditioning. The hot water is primarily provided via solar heating with backup for those few days where the sun may be taking a break. These rooms are ideal for guests who wish to have a bit more privacy. All rooms during Vipassana Meditation are allocated on a private only basis. All rooms have 2 single/double beds.
Rooms in this building face North, East, South & West. Your room could have pool views.
Guest House Four
Our 4th guest house, opened in 2019, offers basic accommodations in 4 150 SQ FT rooms. These 1st floor rooms have a simple bed or two and a ceiling fan with bathroom facilities on the ground floor, one dedicated to men and one to ladies. These are the budget rooms, providing a lower price point for travellers and volunteers.
Building 4 rooms either face south or north with views of either the swimming pool or the yogashala and hills to the north.
Meals
Vegetarian & plant based meals are prepared and served in Ananda Kitchen. Breakfast, Lunch & Dinner will be offered each day of the retreat with fruits and herbal teas are available throughout the day. All our food is sattvic and will be prepared onsite at meal time. We source local, organic seasonal produce and our herbal teas, sourced from our gardens.
Skill level
Cost of 10-day Vipassana Kriya Meditation Retreat
£330 - £690
Early Bird Pricing applies through 31 March 2020
Price includes
9 night's Private accommodation (Deluxe / Standard)

3 meals a day and all other onsite costs onsite (excluding any holistic treatments)

Chennai Airport Transfers to / from Yogiville India
You only pay forward the cost of accommodations, meals and airport transfers. There is NO FEE for Yogi Ashokananda's teaching, he offers his teaching, his time and his energy as Gurudakshina*, akin to the ancient Gurukul approach.
Previous year's participants cover the costs of current year's students. In turn, current year's students pay forward the costs for the next year's students.